HeartFire CampOut 2022 with Kevin James & Susana, Carrie Tree & Kusñi Bear, Ecstatic Dance & more magic on September 16-18 @Landgoed Ottermeer
Dear Heart Travelers,
After two beautiful and intimate editions of our first HeartFire CampOuts in 2021, we love to gather again around the HeartFire and celebrate the end of the summer and the beginning of the Autumn season with you all. We are so happy that we can announce the new dates for the CampOut 2022 on 16 – 18 September 2022. Ticket are available, here.
It would be great if you join us for this camping gathering with Kevin James & Susana, Carrie Tree & Kusñi Bear, Ecstatic Dance DJ's Caroline and Martyn Zij & more magic on the beautiful natural camping ground Landgoed Ottermeer.
Ottermeer is a sacred place that is created with much love and in harmony with nature. A little paradise that is welcoming us with open hearts and arms. We have set a strong intention to create much beauty together!
HeartFire CampOut!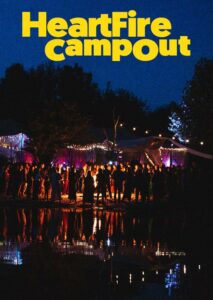 HeartFire CampOut is a spontaneous camping experience, born in 2021, where you go campout with friends and family in nature. For every edition we invite artists and dj's that have touched our hearts with their music, sacred sounds and vibrant energy. Music, dance and ceremony as Medicine!
We will open and close the CampOut with a ceremony with all Heart Travelers. There will be no day tickets available.
Sacred World Music | Ceremony | Ecstatic Dance | Singing | Nature | Stillness | Connection | Playfulness | Celebrating Life
As HeartFire we believe that in this time of transition it is important to come together in a tribe to connect with eachother and to reconnect with our hearts and to lift our spirits high. Together giving shape to the new earth where love, trust and beauty resides. Let's gather around the Hearthfire and celebrate this wonderful life.
CampOut Program
We want to create a space where we you are invited to slow down and tune into the nature of your being. Don't expect a full on program as we feel it is important to also have time to rest, play, connect and see what wants to unfold in the moment itself. The magic of this now moment.
The program is unfolding step by step. We are also tuning into a small program for the kids together with Elske Falkena. Stay tuned for new updates on this page.
Kevin James & Susana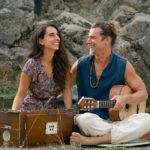 What a joy that Kevin James & Susana will be again part of the HeartFire CampOut with their HeartSong Chanting Circle. A co-creative and empowering experience that can have you singing your heart out, dancing in bliss and diving deep into the profound silence that follows. Kevin will also share a flute meditation that will take you on an inner journey where you will find peace and deep relaxation.
☆ A powerful way to reconnect to the heart ☆
More info about Kevin James & Susana on their website, kevinjamesmusic.com
Carrie Tree & Kusni Bear
Kusñi Bear & Carrie Tree will take you on a musical journey into the depths of the heart and sharing songs from their journeys with guitars, drums, flute and voices. Inviting us to honestly feel, to align & to celebrate the preciousness of being alive in this powerful time.
"The intention for this concert is to create an intimate connected circle, where we can go deeper into our heart space, and to invite the spirits of music that work through us to bring healing and connection. We'll play also some songs we can all sing together"
We are looking forward to ignite the HeartFire together! More info about Carrie Tree & Kusni Bear on their website, carrietree.co.uk.
Ecstatic Dance with DJ's Caroline & Martyn Zy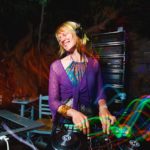 Ecstatic Dance is the perfect way to get out of the buzzing mind and into the body. To let yourself be moved and touched by the music. Caroline and Martyn will take you on a beautiful dancejourney that will open your heart and fire up your spirit. Let's Dance!
Listen to some live sets of DJ Martyn Zy here and to live sets of DJ Caroline, here.
Kids Program
The program is unfolding step by step. We are also tuning into a small program for the kids, together with Elske Falkena.
Landgoed Ottermeer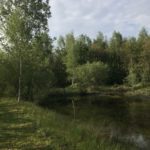 From Dream to Reality. In 2000 Frans and Yvonne bought the Ottermeerhoeve, an old farm with 20 hectares of agricultural land. With the help of Brabants Landschap they have developed and implemented an estate nature plan. Planted 50,000 trees and dug 3 beautiful pools. The mature nature is one of the richest values ​​of our estate.
The camping site is located in the midst of this nature. Their dream was and is to create a nature / paradise environment in which we can develop together in harmony with each other and with nature. It is their life project that they work on with heart and soul daily with their 4 children, supported by friends.
Facilities
We are looking forward to camp together at Landgoed Ottermeer! There are camping spots available (no wifi or electricity) and plenty of caravan/camper spots. Don't forget to buy an additional Camper ticket, if you arrive with your own Camper Van. There are clean, warm showers and a beautiful lake for a fresh morning dip!
Don't have your own tent? Or do you prefer a little more comfort? Send an email to camping@ottermeerhoeve.nl to check the availability and prices of the accommodations.
Do you bring your own camper? Don't forget to buy a separate camper ticket.
Bring Yourself
Meditation cushion / sheepskin for the Chanting Circle and blanket for extra comfort. A plate, cutlery, bowl for soup for your catering needs. There are no plates or cutleries available on site!
Catering
Landgoed Ottermeer will provide a beautiful breakfast, lunch and a delicious meal for the whole weekend. The food is organic and fresh from the vegetable garden of Landgoed Ottermeer!
Practical Information
HeartFire CampOut :: Tuning Into Nature
with Kevin James & Susana + Carrie Tree & Kusni Bear + Ecstatic Dance (DJ Martyn Zy & DJ Caroline) & more magic
Date
16 + 17 + 18 September 2021
Venue Location
Landgoed Ottermeer, Ottermeerweg 2, 4725 PZ Wouwse Plantage
Time
On September 16th our CampOut starts at 15.00, on September 18th our Campout ends at 17.00. Full program will be announced shortly.
Transport
You can find the route description to Landgoed Ottermeerhoeve on their website, here. For public transport, check http://9292.nl/en to plan your journey.
Tickets
Tickets are available here.
Early Bird E 335,- (until August 21st).
Regular Bird Tickets E 360,-
Tickets include meals (breakfast, lunch & diner)
Do you bring your own camper? Don't forget to buy a separate camper ticket.